Incubating radicalism in Hungary – the case of Sopron and Ózd
Abstract Views: 872 PDF Downloads: 1083
Abstract
The paper analyses young people's interpretation of the past, evaluation of the present and political behaviour patterns based on semi-structured interviews (n=60) conducted in two contrasting constellations of modernization, Sopron and Ózd. First the perception of the most pressing social and political problems, second the potential of political and civic actions are compared. Finally an attempt is made to outline a "hopeless" and an "indifferent" idealtype of political culture. Together they create the opportunity for both the birth of antidemocratic tendencies and the space in which they can evolve. In this sense they provide the preconditions for "mainstreaming the extreme" that is the incubation of radicalism in Hungary.
References
Adorno, T. W., E. Frenkel-Brunswik, D. J. Levinson and R. N. Sanford (1950) The Authoritarian Personality. New York: Norton.
Almond, G. A. and S. Verba (1963) The Civic Culture: Political Attitudes and Democracy in Five Nations. Princeton: Princeton University Press.
Barnes, S. H, M. Kaase, K. R. Allerback, B. Farah, F. Heunks, R. Inglehart, M. K. Jennings, H-D. Klingemann, A. Marsh and L. Rosenmayr (1979) Political Action: Mass Participation in Five Western Democracies. Beverly Hills, CA: Sage.
Bibó, I. (1991) The Misery of the Small Eastern European States. In Democracy, Revolution, Self-. Determination. East European Monographs. 18-86.
Bourdieu, P. (1998) Practical Reasons: On the Theory of Action. Redwood City: Stanford University Press.
Buchowski, M. (2001) Rethinking Transformation: An Anthropological Perspective on Post-socialism. Poznan: Wydawnictwa Humaniora.
Cockburn, T. (2007) "Performing" Racism: Engaging Young Supporters of the Far Right in England. British Journal of Sociology of Education, 28(5): 547 — 560.
Csepeli, Gy., I. Murányi and G. Prazsák (2010) Új tekintélyelvűség a mai Magyarországon (New Authoritarianism in Contemporary Hungary). Budapest: Aperion.
Dalton, R. (1996) Comparative Politics: Micro-Behavioral Perspectives. In Goodin, R. and H-D. Klingemann (eds.) The New Handbook of Political Science. Oxford: Oxford University Press. 336-352.
Dechezelles, S. (2008) The Cultural Basis of Youth Involvement in Italian Extreme Right-Wing Organisations. Journal of Contemporary European Studies, 16(3): 363-375.
Durkheim, E. (2008) The Elementary Forms of Religious Life. Oxford: Oxford University Press.
Eyal, G., I. Szelényi and E. Townsley (1998) Making Capitalism Without Capitalists: The New Ruling Elites in Eastern Europe. London: Verso.
Feischmidt M., R. Glózer, Z. Ilyés, V. K. Kasznár and I. Zakariás (2014) Nemzet a mindennapokban – Az újnacionalizmus populáris kultúrája (Nation in Everyday Life – The Popular Culture of New Nationalism). Budapest: L'Harmattan.
Ferge, Zs. (2002) Social Structure and Inequalities in Old Socialism and New Capitalism in Hungary. Review of Sociology, 12(4): 9-34.
Flyvbjerg, B. (2006) Five Misunderstandings About Case-Study Research. Qualitative Inquiry, 12(2): 219-245.
Giddens, A. (1991) Modernity and Self-Identity: Self and Society in the Late Modern Age. Cambridge: Polity.
Gingrich, A. and M. Banks (2006) (eds.) Neo-nationalism in Europe and Beyond. Perspectives from Social Anthropology. New York: Berghahn Books.
Grajczjár, I. and A. Tóth (2011) Válság, radikalizálódás és az újjászületés ígérete: a Jobbik útja a parlamentbe. (Crisis, Radicalisation and the Promise of Rebirth: The Way of Jobbik into the Parliament) In Enyedi Zs., A. Szabó and R. Tardos (eds.) Új képlet. A 2010-es választások Magyarországon. Budapest: DKMKA. 57-92.
Habermas, J. (1985) Theory of Communicative Action. Volume 2 (Translated by T. McCarthy). Boston: Beacon Press.
Habermas, J. (1990) Moral Consciousness and Communicative Action (Translated by C. Lenhardt and S. W. Nicholsen). Cambridge, MA: MIT Press.
Hankiss, E. (1991) East European Alternatives. Oxford: Oxford University Press.
Holmes, D. R. (2000) Integral Europe: Fast-Capitalism, Multiculturalism, Neofascism. Princeton: Princeton University Press.
Horkheimer, M. [1937] (1976) Traditional and Critical Theory. In Connerton, P. (ed.) Critical Sociology: Selected Readings. Harmondsworth: Penguin.
Horkheimer, M. and Adorno, T. [1944] (1972) Dialectics of Enlightenment (Translated by J. Cumming). New York: Herder and Herder.
Inglehart, R. (1977) The Silent Revolution: Changing Values and Political Styles Among Western Publics. Princeton: Princeton University Press.
Kalb, D. and G. Halmai (2011) (eds.) Headlines of Nation, Subtexts of Class. Working-Class Populism and the Return of the Repressed in Neoliberal Europe. New York: Berghahn Books.
Karácsony, G. and D. Róna (2010) A Jobbik titka: A szélsőjobb magyarországi megerősödésének lehetséges okairól (The Secret of Jobbik: On the Potential Reasons of the Strengthening of the Hungarian Extreme Right). Politikatudományi Szemle 19(1): 31-63.
Kiossev, A. (1995) Post-Theory, Games, and Discursive Resistance: The Bulgarian Case. New York: State University of New York Press.
Koczanowicz, L. (2008) Politics of Tim: Dynamics of Identity in Post-Communist Poland. New York: Berghahn Books.
Meyer, G. (2003) Values, Small Life Worlds and Communitarian Orientations: Ambivalent Legacies and Democratic Potentials in Post-Communist Political Cultures. In Pollack, D., J. Jacobs, O. Muller and G. Pickel (eds.) Political Culture in Post-Communist Europe: Attitudes in New Democracies. Burlington, VT: Ashgate. 169-205.
Miller-Idriss, C. (2009) Blood and Culture: Youth, Right-Wing Extremism, and National Belonging in Contemporary Germany. Durham: Duke University Press.
Mrozowicki, A. (2011) Coping with Social Change. Life Strategies of Workers in Poland's New Capitalism. Leuven: Leuven University Press.
Ost, D. (2006) The Defeat of Solidarity: Anger and Politics in Postcommunist Europe. Ithaca: Cornell University Press.
Percheron, A. (1993) La socialisation politique (Edited by Mayer, N. and A. Muxel). Paris: A. Collin.
Renshon, S. A. (1975) Personality and Family Dynamics in the Political Socialization Process. American Journal of Political Science, 19(1): 63-80.
Rydgren, J. (2007) The Sociology of the Radical Right. Annual Review of Sociology, 33: 241-262.
Sears, D. O. and N. A. Valentino (1997) Politics Matters: Political Events as Catalysts for Preadult Socialization. The American Political Science Review, 91(1): 45-65.
Shoshan, N. (2008) Placing the Extremes: Cityscape, Ethnic "Others" and Young Right Extremists in East Berlin. Journal of Contemporary European Studies, 16(3): 377-391.
Sik, D. (2010) The Transformation of Action Coordination? A Critical Interpretation of the Hungarian Transition. Review of Sociology, 20(2): 17-45.
Sik, D. (2011) Civic Socialization in Post-transition Condition. Politics, Culture and Socialization, 2(3): 257-271.
Sik, D. (2014) Critical Theory and Political Socialization. Belvedere Meridionale, 26(4): 56–63.
Sik, D. (2015a) Towards a critical theory of Central European Societies. East Central Europe. MS.
Sik, D. (2015b) Memory Transmission and Political Socialisation in Post-Socialist Hungary. In Pilkington, H. and G. Pollock (eds.) Radical Futures? Youth, Politics and Activism in Contemporary Europe, Sociological Review Monograph Series. Oxford: Wiley Blackwell.
Szalai, J.(2007) Nincs két ország…? Társadalmi küzdelmek az állami (túl)elosztásért a rendszerváltás utáni Magyarországon (Are Not There Two Countries...? Social Struggles for State (Over-) Redistribution in Post-Transition Hungary). Budapest: Osiris.
Szabó A. (2012) (ed.) Racionálisan lázadó hallgatók – Apátia, Radikalizmus, Posztmaterializmus a magyar egyetemisták és főiskolások körében (Rationally Revolting Students – Apathy, Radicalism and Post-Materialism Amongst Hungarian Students). Szeged: Belvedere.
Szele, Á. (2012) Extraordinary Situations, Extraordinary Means: The Regenerative Projects of the Hungarian Radical Right. CEU Political Science Journal, 7(2): 123-144.
Thomas, D. B. (1979) Psychodynamics, Symbolism, and Socialization: "Object Relations" Perspectives on Personality, Ideology, and Political Perception. Political Behavior, 1(3): 243-268.
Thomas, G. (2011) A Typology for the Case Study in Social Science Following a Review of Definition, Discourse, and Structure. Qualitative Inquiry, 17(6): 511-521.
Tóth, G. A. (2012) (ed.) Constitution for a Disunited Nation. On Hungary's 2011 Fundamental Law. Budapest: CEU Press.
Trencsényi, B. (2011) The Politics of "National Character": A Study in Interwar East European Thought. Oxon: Routledge.
Verdery, K. (1996) What Was Socialism, and What Comes Next? Princeton: Princeton University Press.
Vysotsky, S. (2013) The Influence of Threat on Tactical Choices of Militant Anti-Fascist Activists. Interface: a journal for and about social movements, 5(2): 263 – 294.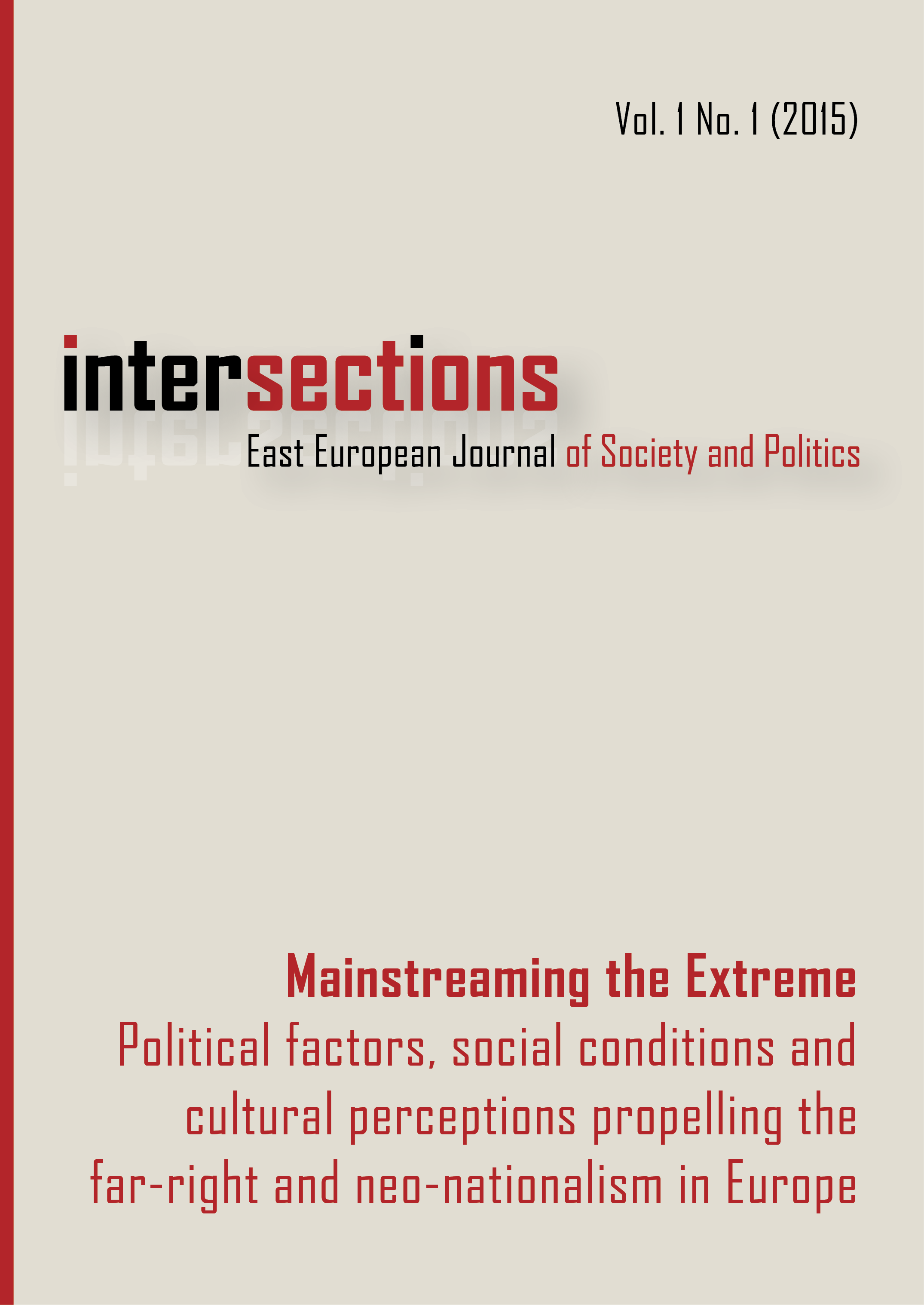 Downloads
How to Cite
[1]
Sik, D. 2015. Incubating radicalism in Hungary – the case of Sopron and Ózd. Intersections. East European Journal of Society and Politics. 1, 1 (Mar. 2015). DOI:https://doi.org/10.17356/ieejsp.v1i1.31.
License
Copyright Notice
Authors who publish with this journal agree to the following terms:
Authors retain copyright and grant the journal right of first publication, with the work three months after publication simultaneously licensed under a Creative Commons Attribution License that allows others to share the work with an acknowledgement of the work's authorship and initial publication in this journal.
Authors are able to enter into separate, additional contractual arrangements for the non-exclusive distribution of the journal's published version of the work (e.g., post it to an institutional repository or publish it in a book), with an acknowledgement of its initial publication in this journal. This acknowledgement is not automatic, it should be asked from the editors and can usually be obtained one year after its first publication in the journal.