From mainstream to extreme: Casino capitalism, fascism and the re-bordering of immigration in Greece
Abstract Views: 720 PDF Downloads: 581
Abstract
Τhe electoral success of the far-right in Greece deals, not only, with the retreat of the state from the provision of public goods such as welfare services and security, but predominantly, with mainstream anti-immigrant discourses and representations, which have been further deteriorated, intensified and expanded during economic crisis. Over the last years, official and media discourses, re-fabricating the popular 'deep structures' of nationalism and masculinity, targeted immigrants as responsible for the deterioration of social life, especially in the urban centres. As a result, 'the immigrant other' came to the forefront of the political debate as the dangerous and contaminating 'other'. In this framework, my aim is to approach the popularity and the quick rise of fascism not as an accident, but as 'a chronicle of death foretold', strongly interconnected with media representations and official public statements and interventions, framed by casino capitalism and the expansion of mainstream nationalist, as well as racist discourses and accounts. As it emerges from the immigration histories of Europe and the USA, xenophobia and the rise of fascism under the cover of nationalism and patriotism in times of economic recession, is a rather banal phenomenon. What however needs further examination is the close interconnection between official representations disseminated through state-controlled media and fascist action. My main point is that fascists in Greece pushed to the edges mainstream xenophobic representations, further popularized in the era of crisis.

 
References
Agamben, G. (1995) Homo Sacer: Sovereign Power and Bare Life. California: Stanford University Press.
Andreas, P. (2000) "Introduction: The Wall after the Wall" In The Wall Around the West: State Borders and Immigration Controls in North America and Europe. Andreas P. and Snyder (ed) Lanham: MD: Rowman and Littefield.
Avdela, E. and Psara, A. (2012) Hidden aspects of the dark vote (krimenes ptiches tis melanis psifou). Aygi 01/07/2012.
Christopoulos, D. (ed. & Introducation) Kousouris, D. Papadatos-Anagnostopoulos, D. Papapantoleon, K. Sakelariou, (2014) A. Mapping Ultra-Right Extremism, Xenophobia and Racism within the Greek State Apparatus. Athens: Nissos.
Comaroff J. & Comaroff, J. (2006) "Law and disorder in the postcolony: An introduction", In Law and disorder in the postcolony J. Comaroff & J. L.
Comaroff (ed.) Chicago: University of Chicago Press.
Deleuze, G. (1992) "Postscript on the Societies of Control" October 59: 3-7. Winter, Washington DC: The MIT Press.
Eleytheriadou, E. (2007) "8.885 In The list of the shame", The News (Ta nea): 26/4/2007.
Foucault, M. (1982) The Subject and Power. Critical Inquiry, 8, (4): 777-795.
Gilroy, P. (1992) The end of Racism. In 'Race' Culture and Difference Donald J. and Rattansi A. (ed) London: Sage and The Open University.
Higham, J. (1955) Strangers in the Land: Patterns of American Nativism, 1860-1925 New Brunswick: Rutgers University Press.
Karidis, B. (1996) I Eglimatikotita ton metanaston stin Ellada: Zitimata Theorias kai anteglimatikis politikis (The criminality of immigrants in Greece: Questions of theory and policy against criminality). Athens: Papazisis.
Koussouris, D. (2014) Greece in the European 20th Century. In Christopoulos D. (ed.) Mapping Ultra-Right Extremism, Xenophobia and Racism within the Greek State Apparatus. Bruxelles: Rosa Luxembourg Stiftung. (12-20).
Laurie, P. (2012) Greeces's Greece's Fascist Homophobes Have God and Police on Their Side. http://www.vice.com/en_uk/read/greeks-fascist-homophobes-have-gay-jesus-on-their-side (accessed 15/o4/2012).
Papaionnou, K. (2013) Ta "kathara heria" tis Chisis Avgis: Efarmoges Nazistikis katharotitas (The "clean hands" of Golden Dawn: Applications of Nazi cleanness). Athens: Metechmio.
Psarras, D. (2012) I mavri vivlos of tis Chirsis Avgis: Documenta apo tin istoria kai tin drasi mias Nazistikis omadas (The black bible of Golden Dawn: Documents from the activities of a Nazi group). Athens: Polis.
Tsimouris, G. 2014 From Invisibility into the Centre of the Athenian Media Spectacle: Governmentality and Immigration in the Era Of Crisis. In Crisis-Scapes: Athens and Beyond. (Brekke, J. K Dalakoglou, D. Filippidis, Ch. and Vradis, A. ed.) Athens: Synthesi.
Zenakos, A. 2012 GOLDEN DAWN, 1980-2012. THE NEONAZIS' ROAD TO PARLIAMENT, http://borderlinereports.net/2012/10/25/report-golden-dawn-1980-2012-the-neonazis-road-to-parliament/ (accessed 15/o4/2012).
Zizek, S. (2012) "Save us from the saviours" London Review of Books 34 (11) 7/6/2012.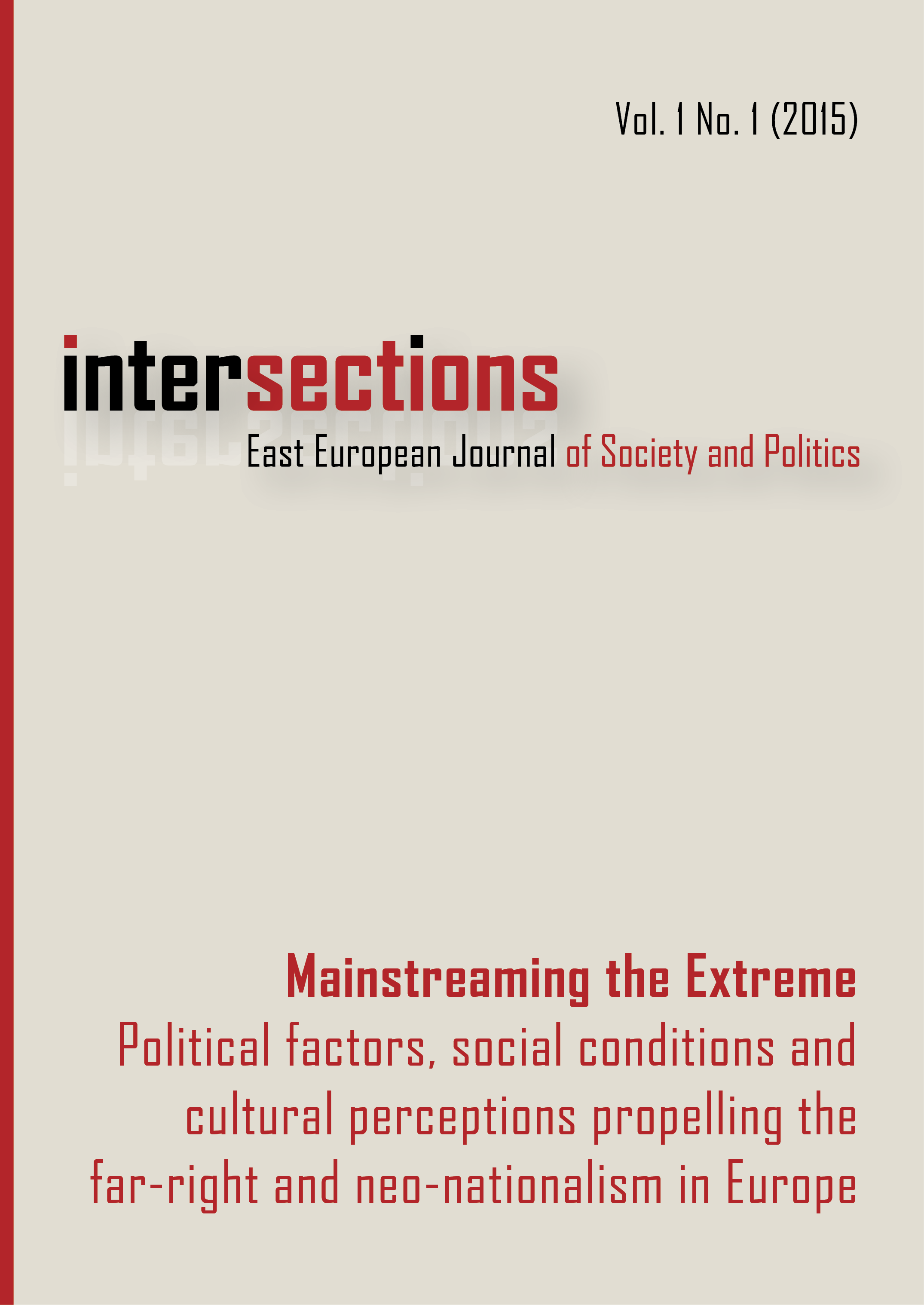 Downloads
How to Cite
[1]
Tsimouris, G. 2015. From mainstream to extreme: Casino capitalism, fascism and the re-bordering of immigration in Greece. Intersections. East European Journal of Society and Politics. 1, 1 (Mar. 2015). DOI:https://doi.org/10.17356/ieejsp.v1i1.27.
License
Copyright Notice
Authors who publish with this journal agree to the following terms:
Authors retain copyright and grant the journal right of first publication, with the work three months after publication simultaneously licensed under a Creative Commons Attribution License that allows others to share the work with an acknowledgement of the work's authorship and initial publication in this journal.
Authors are able to enter into separate, additional contractual arrangements for the non-exclusive distribution of the journal's published version of the work (e.g., post it to an institutional repository or publish it in a book), with an acknowledgement of its initial publication in this journal. This acknowledgement is not automatic, it should be asked from the editors and can usually be obtained one year after its first publication in the journal.