Reconstructing the Borders and the Definitions of Home and Work in the Context of Telecommuting in Poland
Abstract Views: 859 PDF Downloads: 433
Abstract
This paper presents the results of intensive ethnographic research into a group of contemporary Polish teleworkers and their families. Recent media representations of home-located working activities show that the fusion of work and home in the same space may occur in the near future, but telework remains a new and challenging situation for many households. Working at home on the basis of telecommuting may not represent an opportunity but rather a major challenge, causing significant problems for and limitations on both family and work life. The ethnographic research describes newly established practices of everyday living in the different structures – 'the daily puzzles of real people who live their work and households lives' (DeVault 1999: 52).  Through the use of a mix of qualitative methods (in pair interviews, photography and dairies) research methodology is developed to investigate the household as a socio-spatial situation. Accordingly, the article includes: a) a discussion of the theoretical issues related to telecommuting and work-life balance, b) an overview of the relevant literature, c) a description of the methodology of the study, and d) some conclusions about the issue of constructing and overcoming borders and the definitions of home and work in the context of telecommuting in Poland in the context of the establishment of work-life balance.
References
Baines, S. and U. Gelder (2003) What is Family Friendly about the Workplace in the Home? The Case of Self-Employed Parents and their Children. New Technology Work and Employment 18 (3): 223–234. DOI: 10.1111/1468-005X.00123.
Balcerzak-Paradowska, B. (2008) Polityka rodzinna w Polsce w aspekcie godzenia życia zawodowego i rodzinnego. In Sadowska-Snarska, C. & Li, T. (eds.),
Godzenie pracy z rodziną w kontekście aktywizacji zawodowej kobiet, Wydawnictwo. Białystok: Wyższej Szkoły Ekonomicznej w Białymstoku. 11-26.
Beach, B. (1989) Integrating Work and Family Life: The Home-working Family. Albany: State University of New York Press.
Christensen, K. (1989) Women and Home-based Work: The Unspoken Contract. New York: Henry Holt and Company.
Deleuze, G. (1992) Postscript on the Societies of Control. October, 59: 3-7.
DeVault, M. L. (1999) Liberating method: feminism and social research. Philadelphia: Temple University Press.
Ellison, N.B. (1999) Social Impacts: New Perspectives on Tele-Work. Social Science Computer Review, 17 (3): 338-356. DOI: 10.1177/089443939901700308.
Felstead, A. and N. Jewson (2000) In Work, at Home: Towards an Understanding of Homeworking., London: Routledge.
Foucault, M. (1986) Of Other Spaces. Diacritics.16 (1): 22–27. DOI: 10.2307/464648.
Gambles, R., Levis, S. and R. Rapoport, (2006) The Myth of Work–Life Balance. The Challenge of Our Time for Men, Women and Societies. England: John Wiley &
Sons Ltd.
Gringeri, C. (1994) Getting by: Women homeworkers and rural economic development. Lawrence: University Press of Kansas.
Haddon, L. and A. Lewis (1994) The Experience of Teleworking: an Annotated Review. International Journal of Human Resource Management 5 (1): 193-223.
Halal, W. E. (1996) The rise of the knowledge entrepreneur. Futurist, 30 (6): 13-16.
Heck, R., Rowe, B. & A. Owen (1995) What we know and do not know about the "home" and the "work" and the implications of both. In R. Heck, A. Owen & B.
Rowe (eds.) Home-based employment and family life. Westport, CT: Auburn House. 193-228.
Hochschild, A. (1989) The Second Shift: Working Parents and the Revolution at Home. New York: Viking.
Jackson, P., & van der Wielen, J. (1998) Introduction: Actors, approaches, and agendas - From telecommuting to the virtual organization. In P. Jackson and J.
Van der Wielen (eds.) Teleworking: International Perspectives from Telecommuting to the Virtual Organization. London: Routledge. 1-17.
López Estrada, S., (2002) Work, Gender, and Space: Women's Home-Based Work in Tijuana, Mexico. Journal of Developing Societies, 18: 169-195. DOI:
1177/0169796X0201800208.
Michelson, W. and K. Linden, (1997) Home and telework in Sweden. Paper presented at Gender and Teleworking Conference, National Resource Center for
Women (NUTEK), Stockholm, Sweden, March 14, Stockholm.
Mirchandani, K. (2000) "The best of both worlds" and "cutting my own throat": Contradictory images of home-based work. Qualitative Sociology 23 (2): 159-
Nippert-Eng, C. (1996) Home and work: Negotiating boundaries through everyday life. Chicago: University of Chicago Press.
Olson, M. H. (1988) Corporate culture and the homeworker. In K. Christensen (eds.) The new era of homebased work: Directions and Policies, Boulder, CO:
Westview.126-134.
Pyöriä, P. (2003) Knowledge Work in Distributed Environments: Issues and Illusions. New Technology Work and Employment 18 (3): 166–180. DOI:
1111/1468-005X.00119
Salmi, M. (1996) Finland Is Another World: The Gendered Time of Homework. In E. Boris and Elisabeth Prugl (eds.) Home Workers in Global Perspective:
Invisible No More, New York, New York: Routledge. 143-178.
Sullivan, C. (2003) What's in a Name? Definitions and Conceptualisations of Teleworking and Homeworking. New Technology, Work and Employment 18 (3):
-164. DOI: 10.1111/1468-005X.00118
Szymczak, M. (1999) Telepraca w czterech ścianach, czyli jak wytrzymać ze sobą. TPTINT Praktyka i Teoria Informacji Naukowej i Technicznej 7 (1, 25) 9-11.
Vetere, A. and A. Gale (1987) Ecological Studies of Family Lives. Wiley-Blackwell.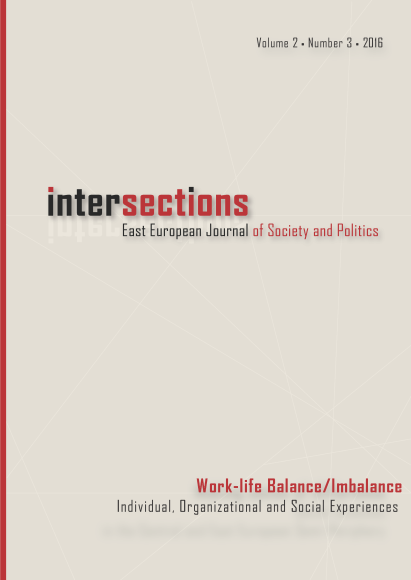 Downloads
How to Cite
[1]
Gądecki, J., Jewdokimow, M. and Zadkowska, M. 2016. Reconstructing the Borders and the Definitions of Home and Work in the Context of Telecommuting in Poland. Intersections. East European Journal of Society and Politics. 2, 3 (Sep. 2016). DOI:https://doi.org/10.17356/ieejsp.v2i3.166.
Section
Work-life balance/imbalance: Individual, Organizational and Social Experiences
License
Copyright Notice
Authors who publish with this journal agree to the following terms:
Authors retain copyright and grant the journal right of first publication, with the work three months after publication simultaneously licensed under a Creative Commons Attribution License that allows others to share the work with an acknowledgement of the work's authorship and initial publication in this journal.
Authors are able to enter into separate, additional contractual arrangements for the non-exclusive distribution of the journal's published version of the work (e.g., post it to an institutional repository or publish it in a book), with an acknowledgement of its initial publication in this journal. This acknowledgement is not automatic, it should be asked from the editors and can usually be obtained one year after its first publication in the journal.