Can the post-Soviet think? On coloniality of knowledge, external imperial and double colonial difference
Abstract Views: 9229 PDF Downloads: 1767
Abstract
The article considers the main challenges faced by the post-Soviet social sciences in the global configuration of knowledge, marked by  omnipresentcoloniality. In disciplinary terms this syndrome is manifested in the social sciences/ versus area studies divide from which the post-Soviet is either excluded or equalized with postcolonial discourses. The situation can be described as a general invisibility of the post-Soviet space and its social sciences and scientists for the rest of the world and the refusal of the global North to accept the post-Soviet scholar in the capacity of a rational subject. The reasons for this complex intersection of the post-Soviet, postcolonial and other post-dependence factors are both internal and external, political and epistemic. Following the methodological principles of decolonial option the author analyses such specific elements of the post-Soviet stagnant configuration in knowledge production as the external imperial difference and the double colonial difference, the geo-politics and body-politics of knowledge the way they are reflected in the knowledge production and distribution, paying specific attention to the possible ways out of this epistemic dead-end.
References
Agamben, G. (1998) Homo Sacer. Sovereign Power and Bare Life.Stanford: Stanford University Press.
Bobkov, I. (2005) Etika Pogranichya. Transkulturnost kak Belarussky Opyt (The ethics of borderlands.Transculturality as a Belorussian experience).Perekrestky 3-4: 127-36.
Braidotti, R. (2013)ThePosthuman. N.Y.: Polity Press.
Carbin, M. and S. Edenheim. (2013) The Intersectional Turn in Feminist Theory: A Dream of a Common Language? European Journal of Women Studies. 20(3): 233-248.
Castro-Gomez, S. (1995) La hybris del punto cero: ciencia, raza e ilustración en la Nueva Granada(1750-1816)(The Hubris of the Zero Point: Science, Race and Illustration in New Granada (1750-1816). Bogotá: Editorial Pontificia Universidad Javeriana.
Castro-Gomez, S. (2007) The Missing Chapter of Empire: Postmodern reorganization of Coloniality and Post-Fordist Capitalism. Cultural Studies, 21 (2-3): 428-48.
Castro-Gómez, S. and E. Mendieta (1998)(eds.) Teorias sin Disciplina (Latinoamericanismo, Postcolonialidad y Globalizacion en Debate). México: Miguel Ángel Porrúa.
Chernetsky, V. (2007) Mapping Postcommunist Cultures: Russia and Ukraine in the context of Globalization. Montreal: McGill-Queen's University Press.
Chomsky, N. et al. (1997) The Cold War and the University. N.Y.: New Press.
Crossroads Asia.Conflict.Migration.Development. http://crossroads-asia.de/ Accessed: 20-01-2015.
Dugin, A. (2014) Chetverty Put (The Forth Way).Moscow: AkademicheskyProyekt.
Dussel, E. (1995) The Invention of the Americas. Eclipse of "the Other" and the Myth of Modernity.N.Y.: Continuum.
Eze, E. Ch. (1997)The Color of Reason: The Idea of 'Race' in Kant's Anthropology. In Eze, E.Ch. (ed.) Postcolonial African Philosophy.NewYork: Blackwell, 103-140.
Fukuyama, F. (1992) The End of History and the Last Man. New York: Free Press.
Gordon, L. (2006) Disciplinary Decadence: Living Through in Trying Times. Boulder: Paradigm Publishers.
Gordon, L. (2010) Theory in Black: Teleological Suspensions in Philosophy of Culture. Qui Parle: Critical Humanities and Social Sciences, 18.2: 193-214.
Gordon, L. (2010a)Philosophy, Science, and the Geography of Africana Reason.Personality.Culture.Society.12.3: 46-56.
Hull, G., P. B. Scott and B. Smith, (1982) All the Women are White,All the Blacks are Men but Some of Us are Brave. N.Y.: The Feminist Press at the CityUniversity of New York.
Lander, E. (1998) Colonialism and Eurocentrism in Latin American social thought. In: Briceño-León R. and H. R. Sonntag (eds.) Sociology in Latin America. Pre-Congress Volume.Proceedings of the International Sociological Association, Regional Conference for Latin America, Montreal, Canada.
Lander, E. (2000) La Colonialidad del Saber: Eurocentrismo y Ciencias Sociales. Perspectivas Latinoamericanas. Buenos Aires: Consejo Latinoamericano de Ciencias Sociales. [CLACSO] and UNESCO.
Mahbubani, K. (2001) Can Asians Think?Understanding the Divide between East and West.Hanover, NH: Steerforth Press.
Mahbubani, K. (2009) The New Asian Hemisphere: The Irresistible Shift of Global Power to the East. N.Y.: PublicAffairs.
Megoran, N. and C. Haris, S. Sharapova, M. Kamp, J. Townsend, N. Bagdasarova, M. Tlostanova. (2012) Author-critic forum: decolonial theory and gender research in Central Asia.Central Asian Survey, 31. 3: 355-367.
Mignolo, W. (2011) I am where I think. Remapping the Order of Knowing.In Lionnet, F. and S. Shih.The Creolization of Theory. Durham, London: Duke University Press, 159-92.
Mignolo, W. (2014) Spirit out of Bounds Returns to the East: The Closing of the Social Sciences and the Opening of Independent Thoughts. CurrentSociologyMonograph. 62(4): 584–602.
Mignolo, W. and A. Escobar. (2009) (eds.) Globalization and the Decolonial Option. London: Routledge.
Mignolo, W. and M. Tlostanova. (2006) Theorizing from the Borders. Shifting to Geo- and Body-Politics of Knowledge. European Journal of Social Theory. 9.2: 205-21.
Mignolo, W. and M. Tlostanova. (2007) The Logic of Coloniality and the Limits of Postcoloniality. InKrishnaswamy, R. and John C. Hawley (eds.) The Postcolonial and the Global: Connections, Conflicts, Complicities.Minneapolis: University of Minnesota Press, 109-23.
Mignolo, W. and M. Tlostanova. (2012) Knowledge Production Systems. In Anheier, H.K., Mark Juergensmeyer and Victor Faessel (eds). The Encyclopedia of Global Studies. Thousand Oaks, CA: Sage Publications, 1005-10.
Mohanty, Ch. T. (1984)Under Western Eyes. Feminist Scholarship and Colonial Discourses. Boundary 2. 12:3-13:1: 333-58.
Moore, D. Ch.(2001) Is the Post- in Postcolonial the Post- in Post-Soviet? Towards a Global Postcolonial Critique. PMLA.116. 1: 111-28.
Readings, B. (1996) The University in Ruins. Cambridge: Harvard University Press.
Sandoval, Ch. (2000) Methodology of the Oppressed. Minneapolis, London: University of Minnesota Press.
Smith, L.T. (1999) Decolonizing Methodologies: Research and indigenous Peoples. London: Zed.
Saadawi N. (1998)The Nawal El Saadawi Reader. London: Zed.
Shiva, V. (2006)Earth Democracy. Justice, Sustainability, and Peace. London: Zed.
Spivak, G. Ch. (1999)A Critique of Postcolonial Reason. Cambridgre:HarvardUniversity Press.
Suchland, J. (2011) Is there a Postsocialist Critique? Personality. Culture. Society. 13.4: 103-14.
Tlostanova. M. (2010) Gender Epistemologies and Eurasian Borderlands. N.Y.: Palgrave Macmillan.
Tlostanova, M. (2011) The South of the Poor North: Caucasus Subjectivity and the Complex of Secondary "Australism". The Global South, 5.1: 66-84.
Tlostanova, M. and W. Mignolo. (2012) Learning to Unlearn. Decolonial Reflections from Eurasia and the Americas. Columbus: The OhioStateUniversity Press.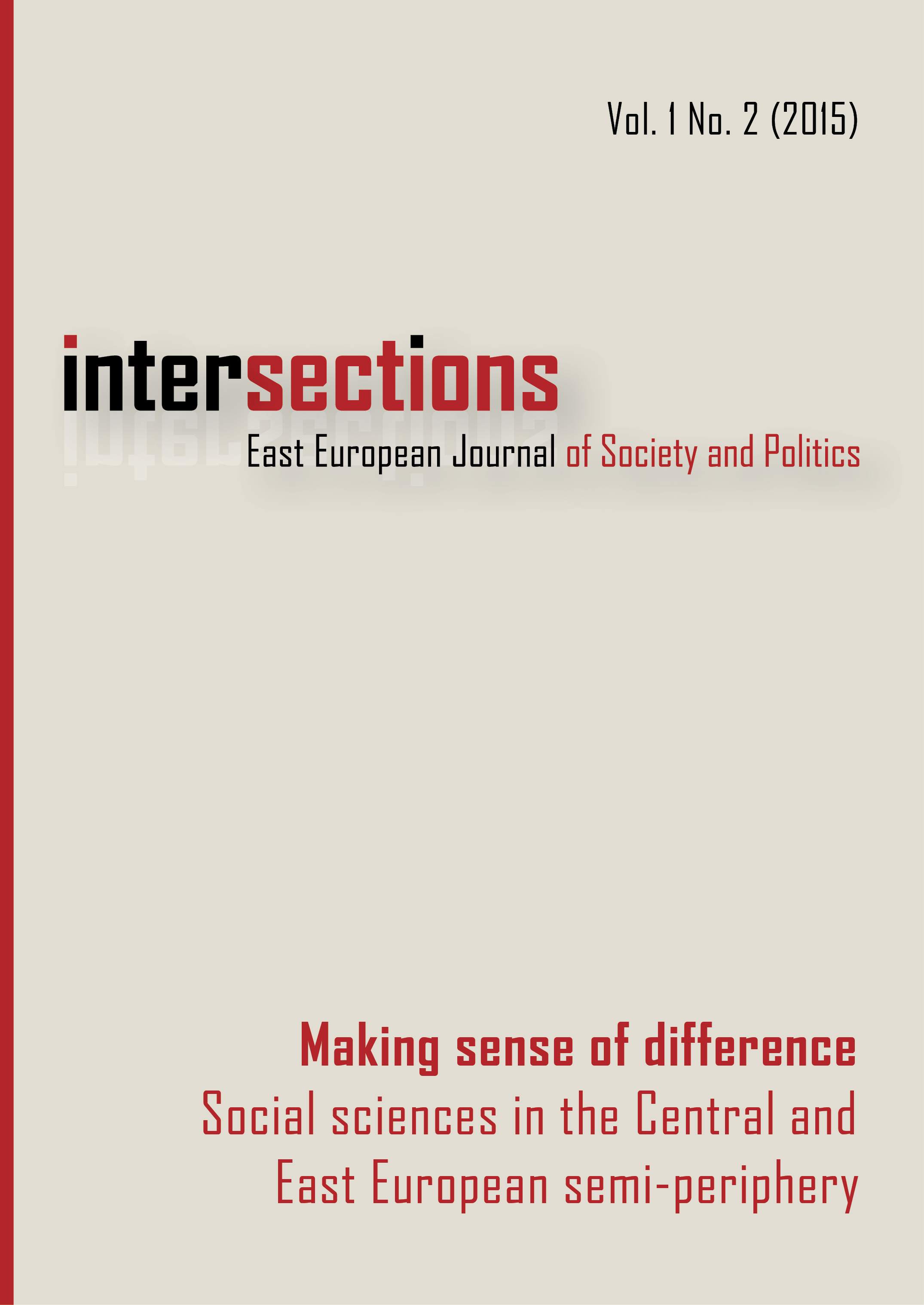 Downloads
How to Cite
[1]
Tlostanova, M. 2015. Can the post-Soviet think? On coloniality of knowledge, external imperial and double colonial difference. Intersections. East European Journal of Society and Politics. 1, 2 (Jun. 2015). DOI:https://doi.org/10.17356/ieejsp.v1i2.38.
License
Copyright Notice
Authors who publish with this journal agree to the following terms:
Authors retain copyright and grant the journal right of first publication, with the work three months after publication simultaneously licensed under a Creative Commons Attribution License that allows others to share the work with an acknowledgement of the work's authorship and initial publication in this journal.
Authors are able to enter into separate, additional contractual arrangements for the non-exclusive distribution of the journal's published version of the work (e.g., post it to an institutional repository or publish it in a book), with an acknowledgement of its initial publication in this journal. This acknowledgement is not automatic, it should be asked from the editors and can usually be obtained one year after its first publication in the journal.